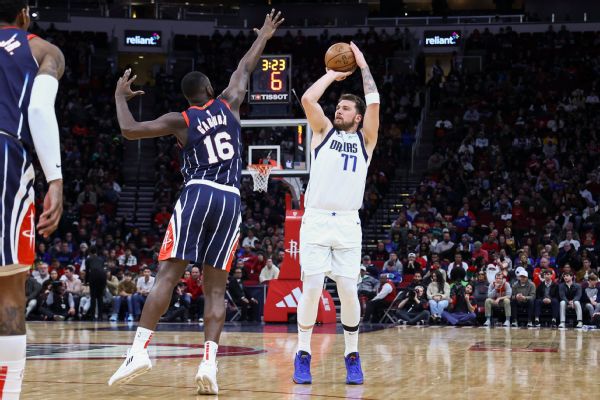 HOUSTON — Luka Doncic scored a season-high 50 points, including 17 in the fourth quarter, and the Dallas Mavericks held on to beat the Houston Rockets 112-106 on Friday night.
Doncic, who also had 10 assists and eight rebounds, was 17 of 30 from the field, including 6 of 12 on 3-pointers. It was Doncic's second career 50-point game.
« Sometimes you know you're going to make more shots than usual, » Doncic said. « When you feel hot, you feel like everything will go in. »
He scored a career-high 51 against the Clippers on Feb. 10, 2022.
Dallas coach Jason Kidd called Doncic's 50 points « a great Christmas gift on a long road trip. »
« Luka is Luka, » Kidd said. « He's the best player in the world. He showed that tonight, carrying the load offensively. … I don't know what else to say about him. He was incredible tonight. »
Houston coach Stephen Silas said Houston's defensive game plan was good, but there was « just too much Luka. »
« I'm not sure that he made an easy shot, » Silas said. « We made every shot hard, and that's the greatness of a great player. … That's what Luka does. »
Tied at 94 with 7 1/2 minutes remaining, the Mavs used an 11-3 run to open up an eight-point lead on a 3-pointer by Doncic, who blew a kiss to the crowd. The Rockets responded with seven straight points to cut the lead to 105-104 on Sengun's layup with 3:13 left.
After Bertans hit a 3 to up the lead to four, Smith cut the lead to two with a jumper with a 1 ½ minutes remaining. The two teams traded turnovers and missed shots before Doncic nailed a 3-pointer with 18 seconds left to give the Mavs a five-point lead.
« We swing the ball, and Tim (Hardaway Jr.) redrives it from the corner and finds Luka wide open, » Kidd said of Doncic's 3 to seal the win. « Luka does the rest. When you're hot like that, sometimes you don't have to move the ball. Someone else did all the work for him, and the ball found him. »