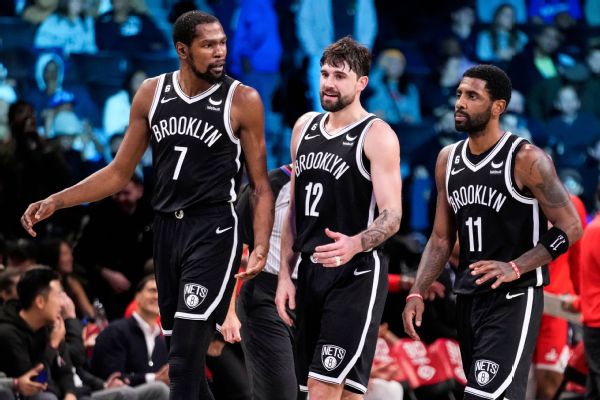 INDIANAPOLIS — The Brooklyn Nets are resting Kevin Durant, Kyrie Irving, Ben Simmons and a slew of other rotation players for Saturday night's game against the Indiana Pacers.
The Nets announced before the game that Durant (right knee — injury management), Irving (left adductor tightness), Simmons (ongoing calf/knee soreness), TJ Warren (left foot — injury management), Nic Claxton (right hamstring tightness ), Seth Curry (left ankle — injury management), Royce O'Neale (personal reasons) and Joe Harris (left ankle — injury management) will all miss the game. Brooklyn is sitting a majority of its rotation on the second night of a back-to-back.
Nets coach Jacque Vaughn said he felt comfortable about the decision and that the organization is « just being smart with the approach, » as the minutes and games pile up early in the year.
« It just made sense with the back-to-back and with our schedule going forward, » Vaughn said prior to the game. « …When we took a global look at it, when you have two or three rotation guys out, it puts a strain or stress on two or three more guys. So then we're really not in a position of taking care of the team in total. »
When asked what he would say to a fan who had paid their money to see Durant play, Vaughn offered a thoughtful response — and an apology.
« It's a legitimate question, » Vaughn said. « That's a conversation I had with Kevin. I hope that fan knows that Kevin really wanted to play. He understands that. He wants to win every game. But it's a decision that for us as an organization, just had to do …
« I would say to that fan that I'm looking out for Kevin Durant's future. I'm looking out for the organization's future. And really apologize if this was the game you thing. But he's given all that he's had in every game since the beginning of this season. »
Vaughn said he made the decision not to have Durant travel so that the 34-year-old could take full advantage of the rest time prior to Monday's game in Washington, DC, against the Wizards. Durant is averaging 36.8 minutes a game. Pacers coach Rick Carlisle was asked if he believed the league should step in and limit the number of players who are able to rest at a certain game.
« There are rules in place, » Carlisle said. « I don't know the exact rules. I believe one time a year you're allowed to rest your players on the road if they're not injured. But look, what's happening tonight, this is part of planning. This is a very extreme example of something that's happening tonight. In coaching, and you're managing a team as an executive, minutes accumulate. Aches and pains this time of year, you're thinking big picture.
« A day [off] at the right time can really help a player over the next two weeks type of thing. With Brooklyn, you're talking about KD and Irving, [who] are two of the most talented players in the world. »
Carlisle understood why the Nets made the decision that they did, noting that it's not a guarantee that an undermanned team would lose, while pointing out how much of a struggle Friday night's 121-111 win over the Wizards, playing without Bradley Beal, was.
« These games where the other guys sit are no bargain for the other team, » Carlisle said. « …I expect tonight to be a struggle too. None of this is easy. »
Nets swingman Yuta Watanabe is expected to be available Saturday after missing the past couple of weeks because of a right hamstring strain.
Vaughn noted that while O'Neale will also miss Monday's game for personal reasons, everyone else who sat out is expected to play, including Claxton.
Vaughn does not believe the Nets will get a call from the league office for the decision to sit so many rotation players.
« I think everything that's been reported today has been documented, » Vaughn said. « And so we know that Seth and Joe had offseason ankle [surgeries], there's no argument to that. Nic didn't play last game because he had hamstring tightness, there's no argument to that. Kevin's leading the league in minutes, there's no argument to that. Royce had a personal reason, he's missing the next game, there's no argument to that.
« So it's just a culmination that it's adding up at the same time. But [we] feel totally comfortable as an organization that we put the best product out on the floor as many times as possible and we'll continue to do that. It just so happened tonight it's more than one, two or three people. »