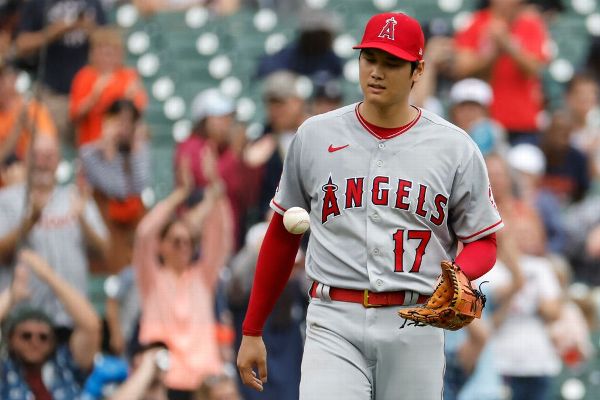 DETROIT — Los Angeles Angels right-hander Shohei Ohtani was removed from Sunday's 4-0 loss to the Detroit Tigers with a stomach virus.
Ohtani pitched four innings, allowing three runs on five hits and four walks, and went 0-1 with a walk. Kurt Suzuki pinch hit for him in the fifth inning, and Jimmy Herget replaced him on the mound in the bottom of the inning.
« I didn't feel well all day, but I wasn't going to miss a game because I didn't feel well, » Ohtani said through an interpreter. « My results weren't good, but I think I just didn 't make the right pitches. »
Riley Greene had a 448-foot homer on the first pitch he saw from Ohtani — the longest home run Ohtani has allowed in the majors, one that went over the out-of-town scoreboard in right-centerfield.
Ohtani retired the first two batters in the fourth, but walked Akil Baddoo and Greene before Victor Reyes made it 3-0 with a triple.
« That was my biggest mistake, » Ohtani said. « If I make one more pitch, I can finish with only one run allowed. »
Ohtani, the 2021 AL MVP, is 10-8 with a 2.83 ERA this season.
The four-inning outing marked Ohtani's shortest start since April 14, when he pitched 3⅔ innings and allowed six hits and six runs in a 10-5 loss at Texas.
The Associated Press contributed to this story.